Once again, Steve Blecher's 53' J-160, Javelin takes a tried and true, mostly Dartmouth grad, crew on a summer cruise. The Crew:
Steve (Dartmouth '64) boat Javelin, home port Westbrook, CT
Rick Van Mell (Dartmouth '63), boat Vanishing Animal, home port San Francisco Bay
Michael Luskin (Harvard '73) boat Turtleheart, home port Mamaroneck, NY
Brian Klinger (Dartmouth '62), ex-boat Special K

A fun romp planned to stretch Javelin's legs to familiar ports of call after a year off due to the COVID-19 pandemic. Edgartown, Martha's Vineyard is always a great stop, especially visiting with Jeffrey Blecher and family, then out to Nantucket, back to the Vineyard, then into Newport on the route home to Westbrook.

That was The Plan, and Shopping List, but you'll just have to read on to see what happened when the wind hit The Plan!

Pictures by Michael Luskin, Jeffrey Blecher and Rick Van Mell, and are grouped between days.

There is a new first ever for Javelin thanks to a spectacular job done by Jeffrey Blecher to not only take drone footage of the boat, but also to skillfully edit it and add a sound track. You'll find the link on a couple of days, but treat yourself to a preview by clicking on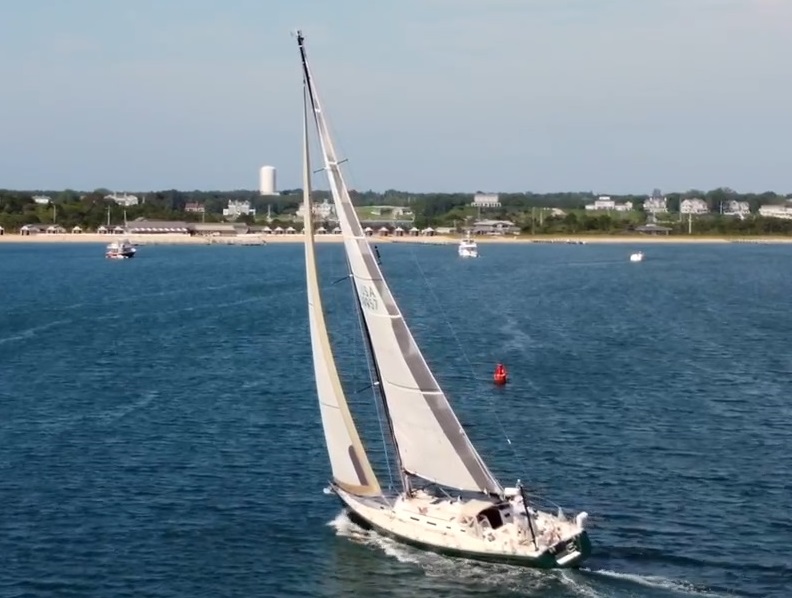 The table below summarizes daily runs and the date is a link to that day's log. Elasped time is generally time under way and has sometimes been adjusted for lunch stops. Cells with a darker background color represent changes from the original Plan.


Log Summary
| | | | | | | | | | | | |
| --- | --- | --- | --- | --- | --- | --- | --- | --- | --- | --- | --- |
| Day | Date | From | To | Depart | Arrive | Elapsed | Plan | Track | Ave | Engine | Engine |
| | | | | | | | Miles | Miles | Speed | Hour | Time |
| | | | | | | HH:MM | NM | NM | Knots | Meter | Hours |
| | | | | | | | | | | 714.3 | |
| 1 | Fri 6/18 | Westbrook | Dutch Harbor | 9:37 | 17:04 | 7:27 | 58 | 58.8 | 7.9 | 719.5 | 5.2 |
| 2 | Sat 6/19 | Dutch Harbor | Edgartown | 7:11 | 13:58 | 6:47 | 50 | 53.24 | 7.8 | 721.6 | 2.1 |
| 3a | Sun 6/20 | Edgartown | Kids Sail | 9:54 | 11:26 | 1:32 | 0 | 10.6 | 6.9 | | 0 |
| 3 | Sun 6/20 | Edgartown | Nantucket | 11:28 | 14:34 | 3:06 | 26 | 26.11 | 8.4 | 724.6 | 3 |
| 4 | Mon 6/21 | Nantucket | Edgartown | 9:43 | 12:54 | 3:11 | 26 | 27.3 | 8.6 | 727.4 | 2.8 |
| 5 | Tues 6/22 | Edgartown | Drone Sail | 8:39 | 9:10 | 0:31 | 0 | 3.5 | 6.8 | | 0 |
| 5a | Tues 6/22 | Edgartown | Day Sail | 9:19 | 14:50 | 5:31 | 0 | 32.3 | 5.9 | 730.2 | 2.8 |
| 6 | Wed 6/23 | Edgartown | Cuttyhunk | 9:05 | 14:02 | 4:57 | 26 | 36.8 | 7.4 | 734.1 | 3.9 |
| 7 | Thurs 6/24 | Cuttyhunk | Newport | 8:04 | 11:22 | 3:18 | 25 | 26.7 | 8.1 | 737.7 | 3.6 |
| 7a | Thurs 6/24 | Newport | Day Sail | 13:20 | 15:49 | 2:29 | 0 | 18 | 7.2 | 738.2 | 0.5 |
| 8 | Fri 6/25 | Newport | Westbrook | 7:07 | 14:25 | 7:18 | 58 | 57.8 | 7.9 | 745.7 | 7.5 |
| | | | | | | | | | | | |
| | | | | | | Totals: | 269 | 351.15 | 7.6 | | 31.4 |


Go To Log Summary

Friday, June 18th



It was 0640 when Steve and Rick departed Steve's house for the run to Giannoni's Delecatessen to pick up deli meat and today's sandwiches for the cruise. Michael, and all his gear, were waiting on the lawn when we arrived, as planned, at his house just before 0700. We had met Seve's first goal for the cruise. The 0700 on the road was advance planning to be able to get aboard Javelin and cast off well before 1030 to avoid getting stuck in the fairway to his slip as the tide fell.

We were aboard at 0840 and while Steve and Michael filled the water tanks and stowed the electrical shorepower cord, Rick stowed the food in fridge, freezer, dry lockers and counter space. At 0923 we left the slip, and were safely in deep water at the fuel dock by 0928. Tanks full and two bags of ice added to the freezer, the cruise offically began nine minutes later as we shoved off at 0937.

Though the planning logistics were great, the weather was only partly coperative. Pleasantly cool temperature and low humidity were fine, but lack of wind had us running the first 4 hours and 45 minutes under power. Steve's favorite wind prediction program, Windy, promised 10 - 15 knots, increasing to 20 from the southwest by mid afternoon.

Under clear and sunny skies we ticked off the familiar landmarks on the 58 mile route to Dutch Harbor. We did have the last of an ebb current helping us along as we passed Long Sand Shoal's eastern end, then New London, Bartlett Reef, into Fishers Island Sound at North Dumpling, passing south of Latimer Reef and Napatree. We finished our deli lunch sandwiches as we exited Fishers Island Sound at Watch Hill and also left Conneticut and entered Rhode Island waters.

The 15 mile run to Point Judith started with still no wind, but slowly it built. We celebrated the wind passing 5 knots, then 7 and 8, and quickly the mirror slick ocean to the south showed dark streaks as the wind finally filled in. Set sail at 1414 in 13 knots of wind. It quickly continued to build and was 16.2 as we passed Pt. Judith and we elected to carry on east before gybing north for Dutch Harbor. Dutch Harbor lies in a bight on the west side of Conanicut Island in the mouth of Narragansett Bay, to the west of Newport.

It was blowing 21 knots when we dropped sail at 1640, just below Dutch Harbor. Rick and Michael seriously reminded skipper Steve that the Amalgamated Crew's Union contract had strict overtime rules if the vessel were not secured for Attitude Adjustment Hour by 1700. Being the magnanimus crew that we are, we didn't invoke any particular penalty clauses for the seven minute late arrival at 1707 because Steve graciously agreed to grill the crew's dinner.

The dinner plan was a cruise traditional steak, mashed potatoes and green salad, grilled on Javelin's stern rail grill. It took both Steve and Michael to get it securely mounted, and Rick had to join them holding up a large jacket as a windbreaker to get it lit in 20 knots of wind. But eventually a year and half's accumulation of just air got pushed through the propane hose and it lit. Fifteen miutes later the crew retreated below for an excellent repast. After a long day, all were in their bunks by 2200.



At Steve's house ...

in the beginning ...

there was a plan ...

and lots of food.

Packed up and ...

ready to load.

Under way ...

provision stop for ...

deli sandwiches.

Good morning Michael.

Pilots Point sheds
Javelin's winter home ...

the office ...

winner Carina ...

time to ...

unload ...

heading for ...

Javelin.

Time to ...

stow stuff ...

Fridge and freezer ...

flidge load ...

freezer too ...

produce basket ...

breads.

Nav station ready.

Steve gives the word ...

finished fueling ...

this way?

let's go!

New London Light

New London Ledge ...

up close.

North Dumpling

Latimer Reef

Under power ...

it's the schooner ...

Brillant from Mystic.

Double Eagle
(just for fuel?)

Light air at ...

Fishers Island Sound

Watch Hill Light ...

and buoy.

Waiting for ...

wind to arrive.

A Grand Banks

By Pt. Judith ...

light ...

we had wind!

20 knots of wind ...

7.99 boat speed.

Pt Judith

Peaceful below.

Great wind ...

following sea ...

heading for ...

Dutch Harbor.

Beavertail Light ...

up close

Looking for ...

Newport bridge towers.

On our mooring ...

safe and sound.

Nice anchorage ...

and roomy.

Steak & Salad ...

needs grill ...

Grill Masters ...

and lighter.

Dutch Harbor

Westbrook to Dutch Hbr.


Go To Log Summary

Saturday, June 19th



Again disrespecting the terms of the crew's union contract, without prior warning the night before, Steve bellowed out, "Coffee is ready," at exactly 0600. Then followed, "What's for breakfast?" Rick replied, "Oatmeal or Cereal." And Steve asked, "Which?" After quick morning ablutions, Rick showed Steve The Plan and indeed it said, "Oatmeal or Cereal." As Rick slid the locker door open, Michael made a judicious decision when he first spotted the Cheerios.

As we dropped the mooring at 0711 departing Dutch Harbor the wind was already blowing 18 knots. It was cloudy with occasional drops of rain. We powered down West Passage hugging the western shore past Bonnet Point, tucked behind Jones Ledge rock, and hoisted the main in the cove just off Watson Pier. Expecting to be running deep downwind angless in strong winds and heavy seas, we rigged a "preventer" line from the end of the boom forward to a block at the bow, then back to a cam cleat near the cockpit to prevent the boom from swinging into an accidental gybe which could cause srious damage. Bearing away 50 degrees we roared off at 8.4 knots on main alone. A fishing boat with a huge flock of seaguls crossed astern as we cleared Beavertail Point and eased off further past Brenton Reef buoy.

The jib was rolled out at 0810 and the speed jumped to 9.3 with 20 knots of breeze. Our Plan route took us into Buzzards Bay then through Quick's Hole to Vineyeard Sound enroute to Edgartown. But with the apparent wind near 145 degrees aft and 3 to 6 foot southerly swells and southwest wind waves Javelin rivaled many roller coasters with twists and turns. After 28 minutes of being tossed around, we changed course 10 degrees to wndward to pass south of Cuttyhunk Island and go directly into Vineyard Sound. Speed increased to 10.5 as the wind piped up to 23 knots. At 0933 we hit a max speed of 11.9 knots surfing down a wave.

Buzzards Bay Tower was abeam at 0943 and we eased down almost 30 degrees into Vineyard Sound. The sky had cleared and we raced along in bright sunshine. Another hour and a quarter would pass before we finally got far enough into the sound that the southerly swells were blocked by Gay Head on Marth's Vineyard. Now we could bear away even farther, rolling in the jib at 1133 and sailed with just the main close to dead downwind at 8.6 knots in 20 knots of wind.

3 Bean Soup with meatballs was enjoyed as we approached West Chop at the northwest corner of the Vineyard with it still blowing over 20 knots. Passing East Chop we debated carrying sail all the way to the R2 buoy where we would turn south for Edgartown, but more gusts in the 20s convinced us the better part of valor was to douse the main near Oak Bluff Harbor and finish the route under engine. We rationalized that we needed to charge the batteries anyway and also run the refrigeration system.

We were pleasantly surpirsed to see Jeffrey Blecher and daughter Ella aboard their 27 foot Boston Whaler Off Leash swing around and come up from astern as we entered Edgartown harbor. The harbormaster directed us to mooring 30, Jeffrey eased ahead to find it for us, and then tied up alongside when we were secure. Steve and Michael got a harbor tour on Off Leash, including hitting 48 mph, while Rick stayed aboard to work on the log and web page.

The launch droped us ashore just before 1800 and Jeffrey was waiting for us. It was a short walk to The Boathouse for dinner. The crew, in their NYYC Javelin fleece jackets posed for a quick picture. A delicious dinner and great service ensued. It was about 2030 when we got back aboard. Steve and Michael were in their cabins by 2100, though Rick carried on log work to 2300 before calling it a night.



0711 Saturday ...

cloudy and blowing ...

fishing boat ...

fishing boat location

Dressed for sea ...

wet going ...

Approaching ...

Breton Reef.

course change

Going fast

Starched flag

Approaching ...

Buzzards Bay Tower

Sow and Pigs

Quicks Hole

Calmer in Vineyard Sound

West Chop

East Chop light
Martha's Vineyard.

Rounding Edgartown R2 ...

relaxed under power.

Edgartown approach

Edgartown light ...

Here comes ...

Jeffrey Blecher's ...

"Off Leash"

fuel dock

Coming closer ...

Jeffrey and Ella

Tied alongside ...

checking the mooring ...

all secure.

Edgartown Harbor

Time for a ride ...

on Off Leash ...

Steve and Ella enjoy

back to Javelin.

Going ashore ...

Edgartown Yacht Club

The Crew + Jeffrey ...

at The Boathouse

great models

After dinner ...

EYC from shore ...

Note to Steve


Go To Log Summary

Sunday, June 20th

"OK, I'm up," Rick called from his cabin at 0615. Though Steve and Michael had been up for who knows how long, at least they had been quiet and it was more the blazingly bright morning sunshine and a good night's sleep that woke Rick.

The Plan called for McHank egg sandwiches for breakfast. The machine was pulled from its locker, the generator was started to reduce the drain on the batteries, and Rick dug out the makings. English muffins for the base, then a light dressing of I Can't Believe It's Not Butter. The lower half of the muffin was dropped into the lower ring of the maker, followed by a slice of ham. Then the heating plate and upper ring were lowered and an egg broken onto the plate. After piercing the yolk to let it spread, a piece of cheese was added, then the top of the muffin was added to complete construction. Lower the lid, set the time for 4 minutes, then sit back an wait. When it clicked to zero and dinged, it was ready to slide out the middle plate to let the top drop onto the bottom. Gently lifting both rings exposed the finished McHank ready to be carefully transferred to a plate. paired with juice and coffee the crew indulged in a great breakfast. Note that the coffee was more enjoyable than ever being served in the new Javelin mugs provided by Bob and Maryann Miller.

The day's excitement began as we picked up Jeffrey and dughters Liv (Olivia 11) and Aven (8) for a morning daysail. Jen and dog Winnie came down to see us off and be sure that the girls were wearing their life jackets. Getting under way at 0954 we powered out of the harbor in very light winds, and were half way out to R2 when a breeze filled in and we set sail at 1018. The girls took turns steering and managed to get up to 5 knots of boat speed in 6 knots of wind speed. Jeffrey took a risk and tried to launch his drone but was unsuccessful and even managed to nick his finger while trying to retrieve it. The good news is the the drone stayed aboard! We dropped our young crew off at 1126 and departed two minutes later for Nantucket.

Jeffrey was able to get the drone working later, and the lower part of this video shows a panorama of Edgartown Harbor. (Several Parts to video.) While it wasn't a classic "Nantucket Sleigh Ride," by the time Rick's ham sandwiches were consumed a few minutes before noon, we set sail off Cape Poge at 1208 and had a delightful sail all the way to Nantucket. The wind slowly increased up to 18 knots and we averaged 8.4 knots for the 26.11 mile run. Great pictures of the sail training schooner Lynx with a square sail leaving Nantucket close aboard.

We took the launch ashore and walked through the tourist-crowded brick sidewalks from whaling days to Steve's friend Ed and Barbara Hajim's house overlooking the harbor channel for light nibbles and a beer. Returning to Javelin, it was time for Michael's World Class Turkey Chili, served with rice and green beans. We finished off the evening with Javelin Sundaes - crumbled Oreos, lots of blueberries, and whipped cream - served with a side of Michael's homemade ginger bread. A happy crew was all tucked in about 2130.


| | | | | |
| --- | --- | --- | --- | --- |
| Father's Day breakfast ... | is building ... | McHanks. | Ready to serve ... | Rick plates ... |
| delicious! | We'll toast to that. | Thanks Bob & Maryann ... | for the mugs. | Michael's deck watch ... |
| heading to pick up ... | Blecher clan. | Heading out. | Go that way. | Liv and Aven |
| Catching on. | Drone controller ... | drone ... | seen through dodger. | In command. |
| Kids sail | Heading for Nantucket ... | Cape Poge ... | light. | The wind came in! |
| Great sailing ... | Some spray ... | going fast ... | 25 degree heel ... | tilted below ... |
| rail down. | A rare sight. | Nantucket shore ... | local character. | Nantucket approach |
| Nantucket Harbor | Channel ahead, but ... | here comes ... | Lynx! | Flags flying ... |
| close aboard ... | P1010448 | and out to sea. | Bye Lynx. | Brant Light |
| On our mooring. | Lynx on hers. | Nantucket square ... | and traffic. | Michael's Turkey Chili. |
| Javelin Sundaes | Dusk ... | Brant light ... | beams ... | good night. |


Go To Log Summary

Monday, June 21st

Dense fog with water dripping from the rigging greeted the crew when they rose just after 0600. By 0700 cook Rick had the scrambled eggs and sausage ready which we ate while also running the generator to charge batteries and then ran the engine to cool the fridge.

Visibility improved by the time the log had been updated, and we dropped the mooring at 0954. Motoring out we passed Lynx heading back in looking very much a "head boat" with just her foremast sails set. Shortly beyond the Nantucket entrance buoy we set sails at 1006 but kept the engine going to charge batteries. As the wind increased to 15 knots, we were touching 10 knots over the bottom with the help of the current in our direction.

The fog returned as we rounded Nantucket buoy G1 and the radar watch was set. Rick was below on the main unit while Michael alternated betwen checking the cockpit unit and maintaining a lookout as Steve stayed at the helm. The new B&G VHF radio system fed the Simrad chartplotter with AIS targets which appeared as triangles pointed in the way the vessel was going. We spotted several, and by putting the cursor on the triangle and pushing the select button the boat's information would fill the screen. The information described the vessel, its course and speed, the relative speed between us and then, and most importantly, how close the two boats would come and when would that happen.

One of the first was Spirit of Bermuda, a target headed toward us closing the distance at 18 knots and due to pass within, at one point, 70 feet in 5 minutes! Given that there is a sea running and the boats change course on every wave, the calculation jumps around dramatically. But you sure pay attention when a 100 foot boat that you can't see is due to be within feet of you in a few minutes. At 1113 we spotted them about 100 yards away, easily avioded each other and we even got a picture or two of the beautiful 3-masted schooner before she disappeared into the fog again.

Next was Summer Dreams, a 39' sailboat that we never spotted though she came within a quarter mile at 1135, and then did see the 46 foot Summer Fun as she also pased a quarter mile away.

The fog lifted enough so we could pick out Cape Poge and other boats in the area. With wind gusting up to 19 knots, we held on almost to the Edgartown R2 buoy before tacking south toward the harbor. We dropped sail abeam R6, and powered into Edgartown at 1254. Steve had called Jeffrey to let him know we were arriving Edgartown and he was able to launch his drone and get some footage of Javelin entering the harbor. (Two Parts to video.)

Steve's choice of tuna salad sandwiches made a great lunch to celebrate a fast and fun passage. Lunch was hardly interrupted when the holding tank pump out boat pulled alongside to "empty the latrine."

Michael hailed the launch which dropped him off on Chappaquiddick Island to vist a fellow Harvard classmate from 1969. Rick worked the log and web page. We all rendezvoued ashore at 1900 at the Edgartown Yacht Club for dinner where Jeffrey and Jen Blecher were waiting. After a great dinner we walked to their house to say goodnight and good bye to Ella, Liv and Aven. Once again most of us were in our bunck in the 2100 hour.


| | | | | |
| --- | --- | --- | --- | --- |
| Morning Joe ... | Rick scrambles ... | enjoy. | Leaving Nantucket ... | Brant Light ... |
| Ed Hajim's house, and ... | NB and Lynx. | By the numbers. | Spirit of Bermuda ... | into the fog. |
| Motoring in ... | Edgartown Light ... | lots of boats ... | want one? | Tuna time. |


Go To Log Summary

Tuesday, June 22nd

The Plan breakfast got switched for McHanks so could saVe the French Toast for a possible breakfast with Jay & Hasty on Thursday morning. We cast off for a great filming adventure at 0837 to sail Javelin near the harbor entrance while Jeffrey tried to take drone pictures of us under sail. It was a first for Jeffrey to be following a boat over water, and certainly a first for Javelin being filmed by a drone.

We had roughed out a 3/4 mile course with upwind and downwind legs that included a "mark rounding" at buoy R8, and a gybe. We had not been able to coordinate that with Jeffrey, but thought it wuld provide multiple opportunities for shots from different angles. Liv was the radio VHF radio operator to be in contact with Steve has Jeffrey had both hands full operating the drone.

When we got the word that the drone was up, we headed for R8 and made a nice rounding tack. Then we sailed a broad reach and did a gybe. At one point Steve spotted the drone flying in from astern -- we all waved! Not only was the footage itself very good but Jeffrey edited it into a mesmerizing piece, complete with Christopher Cross's "Sailing" music as the background. As we said at the beginning, treat yourself and listen to Jeffrey's drone footage.

Our drone adventure was over at 0910 and we sailed back into the harbor to pick up Michael's friend Martin Auerbach to join us for a day sail. We picked him up at 0919 and headed back out. We had expected west-southwest winds, but they varied quite a bit. We twice had shifts of 50 degrees in the course of a minute with winds ranging from 8.5 to 20 knots.

We had thought of sailing close hauled down Vineyard Sound toward Tarpaulin Cove, then running back with a spinnaker. but the wind gods nixed that plan and we just barey were able to reach the entrance to the Woods Hole passage into Buzzards Bay. Dropping sail at 1132 we powered through with a 3.5 knot favorable current, at time hitting 11 knots over the bottom. We anchored in 20 feet of water just outside the beautiful, almost land locked, Hadley Harbor and had sandwiches for lunch.

An hour later we were headed back through Woods Hole and got a taste of predicted rain drops - though the sun was still shining on us. The powerful current through Woods Hole also slowed our progress back to Edgartown, slowing us to just 4 knots over the bottom as we passed West Chop. But persistance paid off and we enjoy good sailing after East Chop right down to R6 going into Edgartown.

By now it was in the 80s and humid, so we turned on the air conditioning and retreated below. Martin stayed aboard for an enjoyable cocktail hour then hailed the launch for shore. By now the various electronics clearly showed the predicted rain marching northeast toward us. While Steve and Michael put on the sail cover and secured the hatches, Rick pulled together one of Steve's favorite cruise dinners - Spaghetti & Meatballs with mixed salad. The rain arrived about 1900 and continued off and on until we were, once again, into our bunks around 2100.



Sail cover off ...

halyard on ...

ready to hoist.

Off the mooring ...

for a drone filming.

Our intended track

Under sail.

Looking our best.

Steve looks for ...

Jeffrey's drone!

Track we sailed
for the drone

Martin & Michael

Nobska Point and ...

light.

into woods hole

Woods Hole channel ...

banged up ...

roaring water ...

Our route

Hadley Harbor

at low tide.

Hadley Habor buoys ..

Looking in ...

nice houses.

Heading back out ...

still current ...

here too.

Martin steers.

The water barge


Go To Log Summary

Wednesday, June 23rd

Rain continued into the night and the wind shifted to the northwest with squally gusts. At 0251Steve started the engine and in two minutes all hand were on deck. The strong ebb current from Katama Bay through Edgartown Harbor was running directly against the northwest wind and Javelin was facing dead downwind while being blown again the mooring. Wanting to avoid the keel wrapping odyssey of Nantucket, Steve was trying to align the boat with the wind. With deck lights on, Rick took a flashlight forward and determined that the mooring was still secure and close to the bow by tight alongside as the wind pushed Javelin again the current. Looking up the current prediction confirmed a 1.7 knot current against the wind, and after checking everything once again, we killed the engine and the crew retreated to their bunks at 0312.
BR> The northwest wind brought a noticeable chill, jackets and fleece were the order of the morning. Hot oatmeal with, as Mel Converse called them "dead flies" (raisins), warmed the crew. Now the trick was coordinating our rendezvous with Jay and Hasty, accounting for the now northwest wind and the currents at Woods Hole, Quicks Hole and avoiding low tide at Cuttyhunk at 1230.

It was on the nose all the way to Woods Hole. The "front porch" panel in the dodger over the companionway stayed closed. Visibility wasn't as good, but it sure was a lot warmer. The passage through Woods Hole was uneventful, but we did contact Jay and Hasty aboard their Alerion 28 "Tillie," and they were already approaching Cuttyhunk and reported there was little wind.

We had hoped for the wind to go north to northeast so we could sail, but it went west instead. We set sail above Weepecket rocks and sailed close hauled down Buzzards Bay making over 8 knots in 10 -12 knots of wind. We were off Cuttyhunk by 1230 but it was a minus tide and Jay had reported they recorded a least depth of just 7' at the inner end of the rock breakwater. Javelin draws 7' so we sailed around for another 90 minutes to wait for "the elevator to rise."

It was 1402 when we entered the channel into Cuttyhunk Harbor with the tide datum at zero. The depth started over 12 feet, but dropped steadily downward as we crept in at just 4 knots. Eleven feet, then 10, then down to 9.1 before slowly starting back up again. We had cleared into the harbor and were soon at our favored end tide on the main dock which holds the lobster shack. Steve had already placed our order for 5 one-and-a-half pound lobsters to be ready at 1800.
Rick set to work making a big batch of coleslaw, though he asked Michael to see if he could find an additional two onions at the market. Not only did he have success, he got a most picturesque picture of the harbor with Javelin's tall black mast clearly visible above the dock house.

Jay and Hasty joined us around 1530 and we solved the problems of the world with ease, aided perhaps by some libations, nuts and cheese and crackers. An industrious and persistent trio of sparrows took note of the Goldfish crackers and were quite bold in gingerly flying right onto the cockpit seats next to Hasty to retrieve one cracker at a time when they were set out for them. We tossed a few onto the dock and that attracted a seagull, a giant compared to the sparrows, but we didn't feed him any more.

At one point we spotted a beautiful schooner's sails gracefully crossing the outer harbor waters. The camera zoomed and captured a majestic shot with the sails appearing to rise from a field of grass.

Steve made his way up the dock and returned at 1800 with the steaming lobsters and we gathered below for dinner with corn, coleslaw and biscuits hot from our oven, and complimented by Jay & Hasty's crisp wine. Dessert was Javelin Sundaes. It was well after sunset and growing dark as Jay and Hasty gingerly boarded their kayak and paddled off into the moonlight and back to Tillie on her mooring.



Mooring line coiled

We'e off ...

Nice house ...

Bye Edgartown ...

Rick's turn

Oak Bluff ferry

Into Woods Hole ...

Woods Hole ferry.

Sharp lookout

Cuttyunk approach ...

breakwater ...

P1010554

scary part

P1010555

made it.

Ferry dock

Tillie and ...

Jay and Hasty

Safe at the dock

Harbor view ...

dock ...

Javelin is ...

tall and ...

beautiful.

follow the rules!

Cockpit comfort ...

Welcome Jay & Hasty

Spotting a ...

Prarie Schooner?!

If they don't have it ...

make your own ...

(show off.)

Beggar

Time for ...

Lobster dinner ...

plus Rick

Shell disposal time ...

down there?

where's mine?

Thanks!

Relaxed ...

time to go into ...

the moonlight.

Sleep tight.


Go To Log Summary

Thursday, June 24th

We awoke to a beautiful morning and enjoyed French Toast with strawberries for breakfast before shoving off at 0804, destination Newport to pick up Brian Klinger for a day sail on Narragansett Bay.

In light air we powered the 26 miles to Newport, arriving off Fort Adams at 1122. Lots of traffic on the water from pleasure sailors, tourist boats, and a few luxury giants.

Brian arrived at noon and was aboard in a few minutes. As Steve directed, we made lunch sandwiches working to empty the larder, and generally suceeded. The last of the wheat bread went to Brian, the last of the rye to Steve and Michael, while Rick finished off the turkey in his sandwich while the rest almost finished the ham. Even the mustard jar was emptied, as were the pickel jar, and the onions. Mission accomplished we went out for a day sail.

Southeast winds in the 10 to 15 knot range made for a nice reach north under the Newport Bridge easily hitting 8 knots most of the time. At Dyer Island we tacked back and sailed closehauled back to the bridge with Rick having a field day playng the puffs. Continuing on through lots of traffic we sailed south about down to Brenton Reef buoy before tacking and heading for the harbor. Rick wanted to match race a 12 meter (USA-19) just setting sail, but Steve was ready to head in.

We cleaned up ship and had a short libation before going ashore to meet Chet and Arlene Solomon for dinner on the patio of New York Yacht Club's Harbour Court clubhouse overlookng Newport Harbor. After dinner we pulled out the song books and, with Rick and Brian leading, spent a good hour refreshing old memories.



Thursday breakfast.

Tillie's departing too.

Sakonnett River Light

Nice schooner

Michael having fun

Beautiful yawl

The Dumplings &
Castle Hill Light

The castle is ...

really big.

Tourist boat ...

with a crowd aboard.

Fort Adams

This is NYYC's ...

Harbour Court.

Newport Harbor

Newport sailing waters

The tall and

short of it!

Rose Island light

Rick having fun.

12 Meter Nefertiti

Going ashore ...

to Harbour Court

History filming

View from above ...

Big crowd

Classic boat festival

Dinner service

End of the day.


Go To Log Summary

Friday, June 25th

Fairly thick fog greeted us as Steve roused the crew for an early departure back to Westbrook for the last leg of the cruise. We had been on mooring 707, and at 0707 we cast off, then dropped Brian on the dock for his drive back to Rye, NH. It was thick enough we turned the radar on as we powered in light winds south towrd Pt. Judith. Lots of little fishing boats out this Friday morning, but not much else. As the wind stayed light we stayed on autopilot pretty much the whole way back. We arrived at Westbrook at 1425 and our computer track read 57.8 miles which equalled the rounded route distance of 58 miles. We packed or gear, emptied what little was left in the fridge, scrubbed Javelin down and headed for home. It was a wonderful cruise. (No pictures today.)

Go To Log Summary



Go To Log Summary

Clear Sailing.

Rick Van Mell vanmells@ix.netcom.com